Electric by Ken, Inc.
Contact Info
Electric by Ken, Inc.

Solve All Your Electrical Problems
Auburndale
FL
33823

Tel: 86396 75860
Web: http://electricbykenfl.com
Email: kmbrlowes@yahoo.com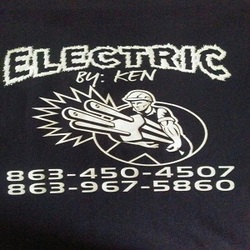 Location Map
Sorry, no map is currently available for this listing.
Electric by Ken, Inc.
WHY SHOULD YOU CHOOSE ELECTRIC BY KEN?
You don't want someone who doesn't know what they're doing messing around with the wires in your walls. When you hire us, you get a licensed and state-certified electrician with an impressive background in electrical repair.

By neglecting the electrical repairs that you need, you're risking hazards like electric shocks, electrocution and electrical fires. Do the smart thing and hire an electrician before hazards in your home become dangerous.
Categories: electric companies, electricians, cable & wire, electric motors, electric generator repair
Opening Hours
Monday: 08:00 to 18:00
Tuesday: 08:00 to 18:00
Wednesday: 08:00 to 18:00
Thursday: 08:00 to 18:00
Friday: 08:00 to 18:00
Saturday: Closed
Sunday: Closed