C2U Staffing Agency
Contact Info
C2U Staffing Agency

Call us today!
Tulsa
OK
74127

Tel: 91885 22966
Web: https://cheers2u-event-party-staffing.b12sites.com
Email: c2upartystaff@yahoo.com

Location Map
Sorry, no map is currently available for this listing.
C2U Staffing Agency
C2U Entertainment Staffing provides professionally cheerful party staff. We take pride in our customer service, treating everyone like VIP. Our friendly bartenders are very knowledgeable and provide quality drinks. Our wait staff and food servers are licensed to serve with a smile. C2U has an awesome after party clean up crew and setup crew with a great eye for details. Our great service is making a great impression on Tulsa and surrounding areas. As the CEO of C2U Staffing my goal is to honestly provide unforgettable customer service to everyone when we help them celebrate. C2U will C2U, your guests and all your party staffing needs, we hadle your party stress, while you entertain your party guests.
Categories: temporary employment agencies, bartending services, barter & trade exchange, technical & trade schools, management consultants Keywords: Staffing Agency, Training Academy, Bartenders, Waitresses, Food Servers, Grill Cooks, Concession Workers, Party Setup Crew, Party Clean-Up Crew
Opening Hours
Monday: 06:00 to 22:00
Tuesday: 06:00 to 22:00
Wednesday: 06:00 to 22:00
Thursday: 06:00 to 22:00
Friday: 06:00 to 22:00
Saturday: 06:00 to 22:00
Sunday: 06:00 to 22:00
Accepts Calls 24/7 for last min availability
Pictures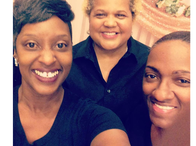 Payment options
American ExpressAndroid PayCashCheckDiscoverInvoiceMasterCardPayPalVisa
More information
Established in: 2016
Specialities: Quality Assured Customer Service, Liquor laws and safety, Cheerful Staff
Services include: Customer Service, Bartenders Barbacks, Waitresses, Food Servers, Concession Grill Cooks, Party Set-up crew, After Party Clean up Crew