212th Automotive
Contact Info
212th Automotive

Contact us today!
7612 S. 212Th St
Kent
WA
98032

Tel: 25339 54434
Email: service@212thauto.com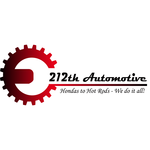 Location Map
212th Automotive
We are a full service shop that can take care of your cars everyday maintenance or build that dream car you have been meaning to restore. Full service shop nothing is to big or to small. We are a family owned business and have been working on cars and trucks for over 30 years.

*** From Hot rod's to Honda's ~~ We do it ALL ***
Call us today to schedule your appointment.
Categories: auto repair & service, auto restoration conversion & customizing, real estate agents, auto parts & accessories, car transmission repair
Opening Hours
Monday: 08:00 to 17:30
Tuesday: 08:00 to 17:30
Wednesday: 08:00 to 17:30
Thursday: 08:00 to 17:30
Friday: 08:00 to 17:30
Saturday: Closed
Sunday: Closed

Payment options
CashCheckVisa