Cards 2 Cash
Contact Info
Cards 2 Cash

Come Visit Us Today!
3907 Hull St
Richmond
VA
23224

Tel: 80423 01900
Web: http://www.cards2cash.com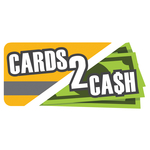 Location Map
Cards 2 Cash
Cards2Cash buys unwanted gift cards and merchandise credits from consumers. Cards2Cash purchases cards from virtually any retailer and in any dollar amount. The company pays top dollar in cash upon verification of the gift card's value.
Categories: promotional & corporate gifts, gift certificates, gift shops
Opening Hours
Monday: 10:00 to 20:00
Tuesday: 10:00 to 20:00
Wednesday: 10:00 to 20:00
Thursday: 10:00 to 20:00
Friday: 10:00 to 20:00
Saturday: 10:00 to 20:00
Sunday: 13:00 to 20:00

Pictures