Coleman Floor Company
Contact Info
Coleman Floor Company

Click Here For a Quote Today!
12176 Livingston Road
Manassas
VA
20109

Tel: 70388 17200
Web: http://www.BuildWithBMC.com
Email: WebSupport@BuildWithBMC.com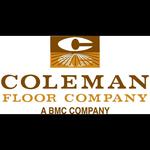 Location Map
38.782027321395
-77.555744744432
14
Coleman Floor Company
For over 60 years builders have trusted Coleman Floor Company to professionally install the floor covering in their new homes, apartments, and commercial projects. A clear focus on quality workmanship and superior customer service has been the catalyst for Coleman Floor Company growing into one of the nation's largest flooring contractors.
Categories: building materials, floor contractors & builders
Additional Contact Information
Fax: 70388 17201

Opening Hours
Monday: 08:00 to 16:30
Tuesday: 08:00 to 16:30
Wednesday: 08:00 to 16:30
Thursday: 08:00 to 16:30
Friday: 08:00 to 16:30
Saturday: Closed
Sunday: Closed

Pictures