Top Septic Tank Service
Contact Info
Top Septic Tank Service

We are #1 in the #2 business!
1508 Pleasant Valley Rd
Mt Pleasant
PA
15666

Tel: 72454 73697
Web: http://topseptic.net
Email: topps@cvzoom.net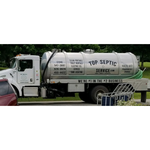 Location Map
Top Septic Tank Service
Top Septic Tank Service provides Septic Tank Cleaning & Repair and Portable Toilet Rental, and has for over 60 years. Family owned and operated - we respond quickly to emergency requests.
Categories: septic tank pumping cleaning & repair, portable toilets
Additional Contact Information
Alternative Phone: 72462 60626

Opening Hours
Monday: 08:00 to 17:00
Tuesday: 08:00 to 17:00
Wednesday: 08:00 to 17:00
Thursday: 08:00 to 17:00
Friday: 08:00 to 17:00
Saturday: Closed
Sunday: Closed
Emergency Service Available 24/7
Payment options
DiscoverMasterCardVisa