Clovis Steel LLC
Contact Info
Clovis Steel LLC

Call Today!
2405 South Prince Street
Clovis
NM
88101

Tel: 57576 90808
Web: http://clovissteel.com
Email: ROGER@CLOVISSTEEL.COM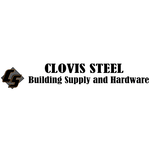 Location Map
34.3724823
-103.1956942
14
Clovis Steel LLC
Clovis Steel LLC is a building material supplier based in Clovis, NM and Canyon, TX. We have more than ten years of experience supplying commercial and general contractors with premium steel building materials. We specialize in steel materials for agricultural buildings, fences and dairy buildings.

We'll come out to your job site to recommend materials for your project. We offer our services in Texas, New Mexico, Kansas and Oklahoma. Call 575-769-0808 or 806-452-5010 today to request a free on-site estimate for the tools, equipment or building supplies you need in Canyon, TX or Clovis, NM.
Categories: building materials, sheet metal work, welding equipment & supplies, welding, roofing materials & supplies
Opening Hours
Monday: 08:00 to 18:00
Tuesday: 08:00 to 18:00
Wednesday: 08:00 to 18:00
Thursday: 08:00 to 18:00
Friday: 08:00 to 18:00
Saturday: 08:00 to 14:00
Sunday: Closed

Pictures