Hertz Car Sales Richmond
Contact Info
Hertz Car Sales Richmond

See our used cars at Hertz Car Sales Richmond.
4112 W Broad Street
Richmond
VA
23230

Tel: 80421 23347
Web: https://www.hertzcarsales.com/richmond.htm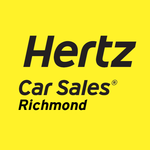 Location Map
Hertz Car Sales Richmond
Hertz Car Sales Richmond offers a unique used car shopping experience. With models from top automakers such as Ford, Toyota, Chevrolet, and more, you'll wonder why you didn't check our inventory earlier. Every car on our lot holds a Hertz Certification, which they earned through rigorous testing and inspections. Our used car dealership doesn't just offer high-quality vehicles at great prices. We also have car financing, extra vehicle protection, and more at our Richmond location. Visit us today to learn more!
Categories: new car dealers
Opening Hours
Monday: 10:00 to 20:00
Tuesday: 10:00 to 20:00
Wednesday: 10:00 to 20:00
Thursday: 10:00 to 20:00
Friday: 10:00 to 20:00
Saturday: 09:00 to 19:00
Sunday: 12:00 to 17:00