MSC Industrial Supply Co.
Contact Info
MSC Industrial Supply Co.

MSC Industrial Supply- Metalworking & MRO Supplies
814 Radford Boulevard
Warehouse 1330 Door 14
Albany
GA
31704
Find Us: Sr8

Tel: 22931 90521
Web: https://www.mscdirect.com/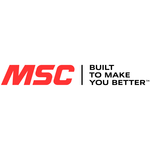 Location Map
MSC Industrial Supply Co.
MSC Industrial Supply Co. (NYSE:MSM) is a leading North American distributor of metalworking and maintenance, repair, and operations (MRO) products and services. We help our customers drive greater productivity, profitability and growth with more than 1.6 million products, inventory management and other supply chain solutions, and deep expertise from over 75 years of working with customers across industries. Our experienced team of over 6,500 associates is dedicated to working side by side with our customers to help drive results for their businesses - from keeping operations running efficiently today to continuously rethinking, retooling, and optimizing for a more productive tomorrow. For more information on MSC, please visit mscdirect.com.
Categories: industrial machinery equipment & supplies Keywords: industrial supply, industrial supplies, MRO, MRO supply, MRO supplies, power tools, hand tools, machine tools, industrial equipment, MSC, MSCdirect, MSC Direct, MSC Industrial Supply Co, MSC Industrial Supply
Opening Hours
Monday: 08:30 to 17:30
Tuesday: 08:30 to 17:30
Wednesday: 08:30 to 17:30
Thursday: 08:30 to 17:30
Friday: 08:30 to 17:30
Saturday: Closed
Sunday: Closed

More information
Established in: 1941