Sorry, no map is currently available for this listing.
Wellness Is Wholeness
In business since 2014, Wellness is Wholeness is a professional wholistic medicine practitioner. We specialize in holistic medicine, hypnotherapy, internal medicine, pediatrics, plant based nutrition, annual physicals, well child care, routine blood work, saliva testing, macrobiotic, functional medicine, yoga, transpersonal hypnotherapy for emotional distress, weight loss, habit cessation and other imbalances. A large part of our success has been due to a reputation of professionalism, and honesty and skill in this field.
Categories: hypnotherapy, mental health clinics, weight loss & control, holistic practitioners Keywords: Transpersonal Hypnotherapy, Emotional Distress, Weight Loss, Habit Cessation, Imbalance, Annual Physicals, Well Child Care, Health Care, Saliva Testing, Pediatrician, Blood Work, Hormone Levels, Macrobiotic (Plant-Based) Nutrition Counseling, Nutrition Counseling, Functional Medicine, Alternative Medicine, Whole Body Medicine, Natural Medicine
Opening Hours
Monday: 09:00 to 17:00
Tuesday: 09:00 to 17:00
Wednesday: 09:00 to 17:00
Thursday: 09:00 to 17:00
Friday: 09:00 to 17:00
Saturday: Closed
Sunday: Closed

Pictures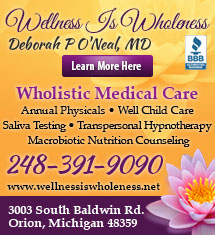 More information
Services include: Annual Physicals, Well Child Care, Saliva Testing, Macrobiotic (Plant-Based) Nutrition Counseling, Functional Medicine, Transpersonal Hypnotherapy For Emotional Distress, Weight Loss, Habit Cessation & Other Imbalances